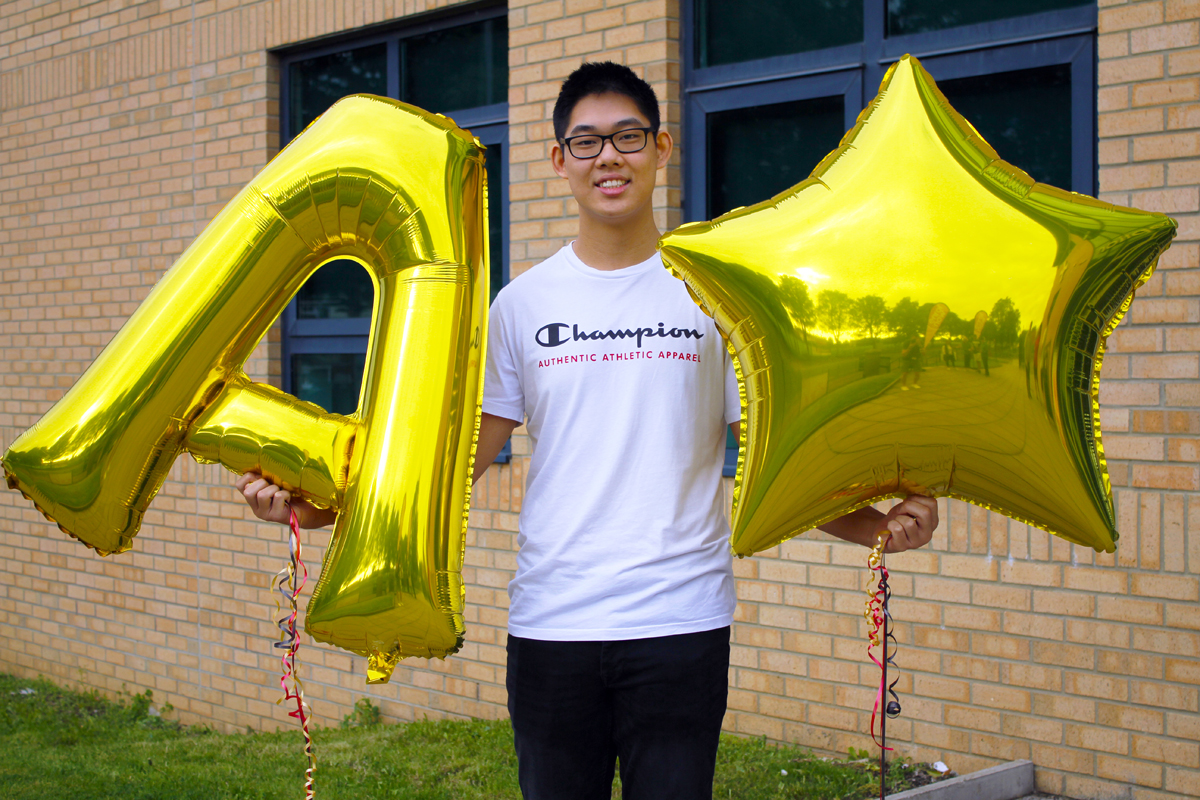 Year 13 students within the Bishop Hogarth Catholic Education Trust have excelled once again! We saw outstanding results from all three of our sixth form colleges, with many of our students progressing to top universities and degree apprenticeships. The array of talent from this cohort has been exceptional, with our students going into a multitude of sectors.
Carmel College
From Carmel College, Archie Headland was thrilled as he achieved four A*s, in maths, further maths, physics and computer science. He will now read Physics at Durham University. "I really enjoy coding so hope to work in that field one day," he said.
Joanna Sebastine achieved three A*s, in maths, further maths and art, and a B in physics, which secured her a place at University College London to read Engineering and Architectural Design, a four-year degree course.
Three A*s, in maths, further maths and chemistry, saw Archie Powell meet his target to take up a coveted place at Queen's College, Oxford, to read Chemistry. Archie was still pinching himself after achieving his dream, "I still can't believe it," he said.
Evie Keeley achieved an A* in maths, an A in further maths and an A in business studies. She has accepted a four-year accountancy apprenticeship with leading firm Mazars based in London.
Carmel College principal, Mel Kane said: "The effort our students have put into their studies has been immense and these results reflect their hard work and the dedication of our talented teaching and support staff. The students have exceeded 2019 outcomes, in both national and North East results, which is remarkable given the significant disruption they have had to their education. We are thrilled for everyone involved in achieving these super results."
The English Martyrs Catholic School & Sixth Form College
Sam Duong achieved four A*s in chemistry, physics, maths and further maths. Sam leaves EMS6 to read Chemical Engineering at Imperial College, London. These spectacular results are a testament to his hard work and dedication to his studies.
After attaining an A* in geography, an A in psychology and a B in biology, Jessica Dunn has secured a brilliant opportunity to pursue such an apprenticeship with North Tees and Hartlepool NHS Foundation Trust in Nuclear Medicine.
Max Denning will read Computer Science at Newcastle University after securing an A* in computer science, an A in maths and an A in further maths.
Hasna Inam achieved an A in biology, an A in maths and a B in chemistry. He will go on to read Pharmacy at Sunderland University.
Headteacher Sara Crawshaw added: "We are extremely proud of all of our students. We are pleased that they are able to pursue their intended pathways and destinations and we have been impressed by their drive and determination. I want to take this opportunity to thank the students and staff for all of their hard work throughout their time at the College and I wish them good luck in the future".
St John's Catholic School & Sixth Form College
Kyryl Lebedin escaped the war in Ukraine and arrived in the North East knowing no English. He was given the option to restart Year 12 due to his situation, but opted to progress into Year 13 after attaining solid mock grades. Kyryl overcame his adversity and achieved exceptional grades, an A in maths, an A in further maths, and a B in physics. He also obtained an international qualification in English. He will go on to read a degree in Computer Science at Durham University. Kyryl said "I have loved it so much at St John's and the support I was given was out of this world."
Lauren Reeve achieved three A*s in law, psychology and RE and will read Journalism, Media and Culture Studies at Newcastle University.
Best friends Matthew Mellody and Jessica Dailey both achieved six A*s, two As and a B between them and have secured places at Durham University to study Maths and Statistics degree and a Business Management degree respectively. Matthew said: "All the stress has been worth it and it has been lovely doing this with my friend." Jessica added: "I have learned a lot at St John's and made a lot of friends along the way."
Headteacher Lisa Byron said: "We are delighted with our students' results and achievements; they have been resilient and committed to their studies, despite all of the challenges they have faced during their education.
"The cohort have been a fabulous group of young people who have supported one another through good times and bad and have been outstanding ambassadors for St John's. Not only have they been dedicated to their studies, but they have also fully embraced all that the school has to offer, including student leadership roles, extra-curricular opportunities and charitable expeditions to Kenya.
"Their excellent results are a testimony to their commitment, hard work and determination to do well. We are so very proud of them and are delighted with their successes. Our staff have worked tirelessly to support our students during their time at St John's and we are all excited to see how they grow from strength to strength in the next chapter of their lives whether that be in education, training or employment."